Europe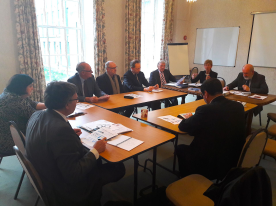 Visit to the catholic schools of Ireland
The Secretary General of the OIEC accompanied the Secretary General of the CEEC (Guy Selderslagh) and Louis Marie Piron (SGEC, France) on a three-day visit to Dublin (Ireland). During this visit, the Delegation met with Bishop Jim Cassin, delegated by the Irish Bishops' Conference for Schools Catholics. Bishop Jim Cassin is slowly recovering from a serious health problem, which has distanced him from his work. For more than two years. We wish him well. The delegation also met:
– the CPSMA, (Catholic Primary School Management Association)
CPSMA provides advice and support for Chairpersons and Principals of Boards of Management in over 2,800 schools. collaborate with other management bodies and negotiate on behalf of these schools with the Department of Education and Skills and other education partners.
– the Association of Management of Catholic Secondary Schools (AMCSS)
The mission of the AMCSS is to promote, represent and support the work of the Boards of Management and Principals of Catholic Secondary Schools in Ireland in living the ideal of the Catholic school. Inspired by the vision and life of Jesus Christ, our schools strive, in a spirit of partnership, to create and develop communities of faith in which the development of the whole person is paramount.
– the Chéile Schools Trust
The Le Chéile Schools Trust now comprises the schools of fourteen religious congregations. The aim of the Trust is to carry on the legal, financial and inspirational role of trusteeship that has, up to now, been done by individual congregations. It carries out the legal and inspirational role of trusteeship . This is a significant development in Irish education as the Catholic Church and the individual religious congregations renew and reformulate their commitment to Irish education.
This visit to Ireland, prepared by our friend Paul Meany, was particularly interesting in order to better understand the organization of Catholic schools in this country.