OIEC News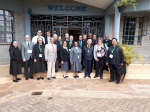 93rd Executive Council of the OIEC, Nairobi/ Kenya
The month of April was mainly dedicated to the preparation of the Executive Council of the OIEC which was held in Nairobi from 26 to 29 April. This Council was prepared by the Kenyan Conference of Catholics Bishops (KCCB), and more precisely by the Commission for education of the Conference, under the leadership of Augusta Muthigani, the president of the OIEC. The organization of the Council itself was remarkable and the special attention to everyone has provided a real climate of friendship and of work. The Council took place in Karen, Russel House at the Sisters' Donum Dei. 17 out of 24 delegates attended the Council. All the regions of the world were represented. In addition, three guests were present: Brother Juan Antonio Ojeda Ortiz, responsible for the academic program of the OIEC, Michel Bertet, responsible for the program of the international representations, and Jerry Cattaro, in charge of the upcoming Congress of the OIEC.
As usual the works of the Council mainly followed a statutory logic. Once per year, it occurs to take stock of the activities of the OIEC, to validate the accounts and the budget of the current year, to reflect on possible evolutions and to take some decisions while waiting for the next general Assembly. This year, some of the highlights of the Council were:
– The presentation of the program "I can" by Brother Juan Antonio;
– The presentation of the activities of the OIEC at the international organizations and especially at the United Nations, by Michel Bertet;
– The preparation of the upcoming Congress of the OIEC which will take place in New York in June 2019.
The project « I can », presented by the OIEC, with the strong support of the Congregation for catholic education represents perfectly the contribution which the OIEC could bring to the collectivity of catholic schools and to the national organizations which are active in the field of the educative service.
Regarding the work of the OIEC within the international organizations it should be underlined that it is fundamental. It should allow at the same time to defend the freedom of education and to promote the right to education for all. The national organizations are often approached by our representatives for information on the situation of education in their countries. This information allows for example to intervene at the Human Rights Committee in Geneva when necessary.
Regarding the Congress in New York it is entering in an active phase of preparation. A website to present the Congress will be accessible from the month of September onwards and will launch the campaign of subscription. This congress must serve as an international meeting to the catholic schools of the whole world which will take up commitments in respect of the Laudato Si and the SDG.