GRACE (Global Researchers Advancing Catholic Education) is an international research-based partnership between Mary Immaculate College in Ireland, Boston College in the United States, the University of Notre Dame in Australia and the OIEC in Rome. GRACE offers academics the opportunity to collaborate in the analysis of the challenges and opportunities which are facing the Catholic schools.
As a member of GRACE, the OIEC will be offering you various webinars in the coming months.
The first webinar was organized together with OIDEL and GPEN (only in French) under the topic "Experiences of Christian schools in responding to the COVID crisis".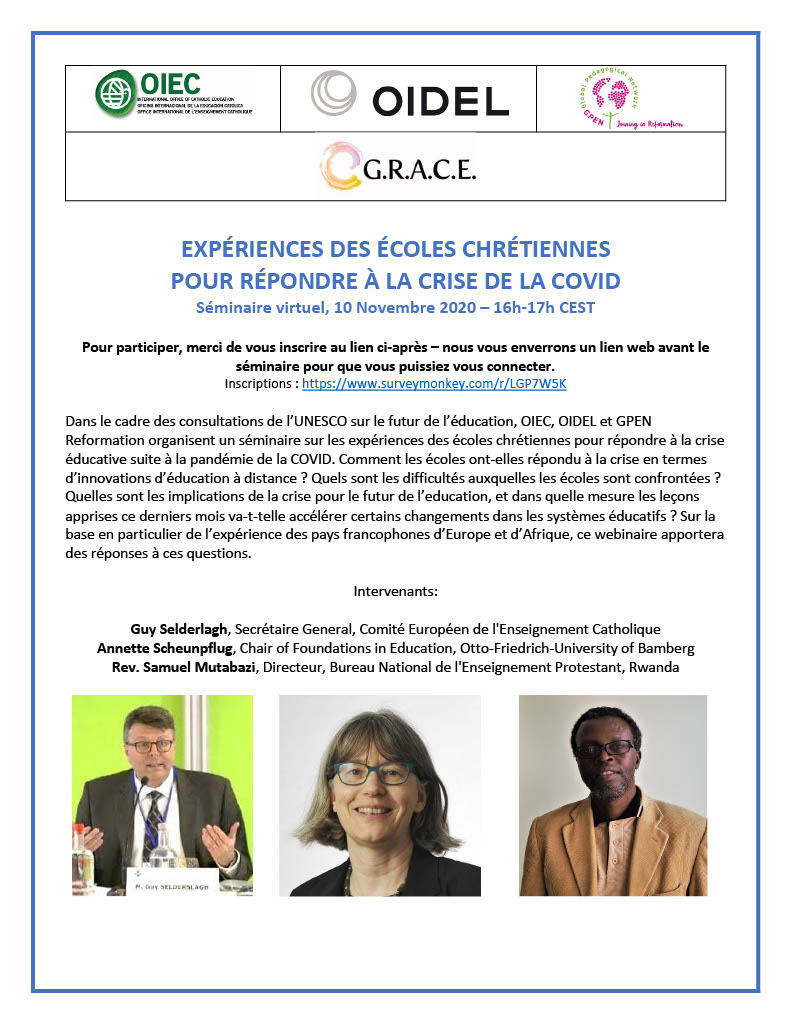 It took place on November 10, 2020 from 4 p.m. to 5 p.m. (CEST) on Zoom. You can watch a registration of the conference by clicking here : Video GRACE Webinar
The next G.R.A.C.E webinar on December 2nd, 2020 at 4 p.m. (EST) will be dedicated to the topic "The heart of Catholic Education – Conversation with Dr. Thomas H. Groome".
Registration is mandatory. Please click here to subscribe : Registration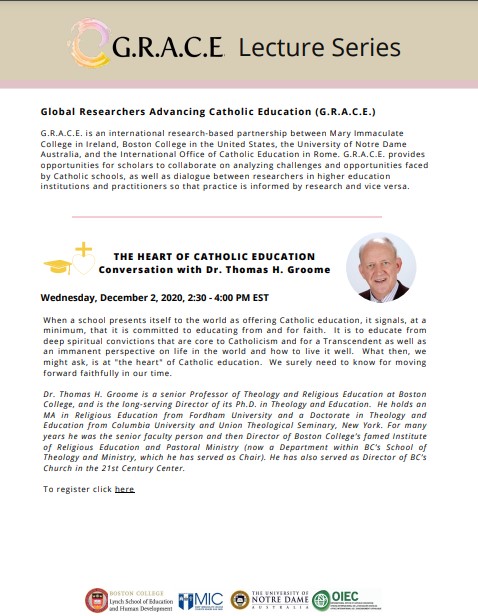 Other upcoming events :
January 19, 2021 (11h – 12h30 EST): Beyond Test Scores: Measuring the Contributions of Catholic Schools in the United States
February 16, 2021 (11h – 12h30 EST): Learning Poverty and Education Pluralism: The Global Catholic Education Report 2021
March 9, 2021 (19h-21h30 GMT): Risking to Live and Love Like Jesus: The Heart of the Teacher in a Catholic School
​
If you are interested in these events, please register on the website : https://www.globalcatholiceducation.org/events