Middle East and Northern Africa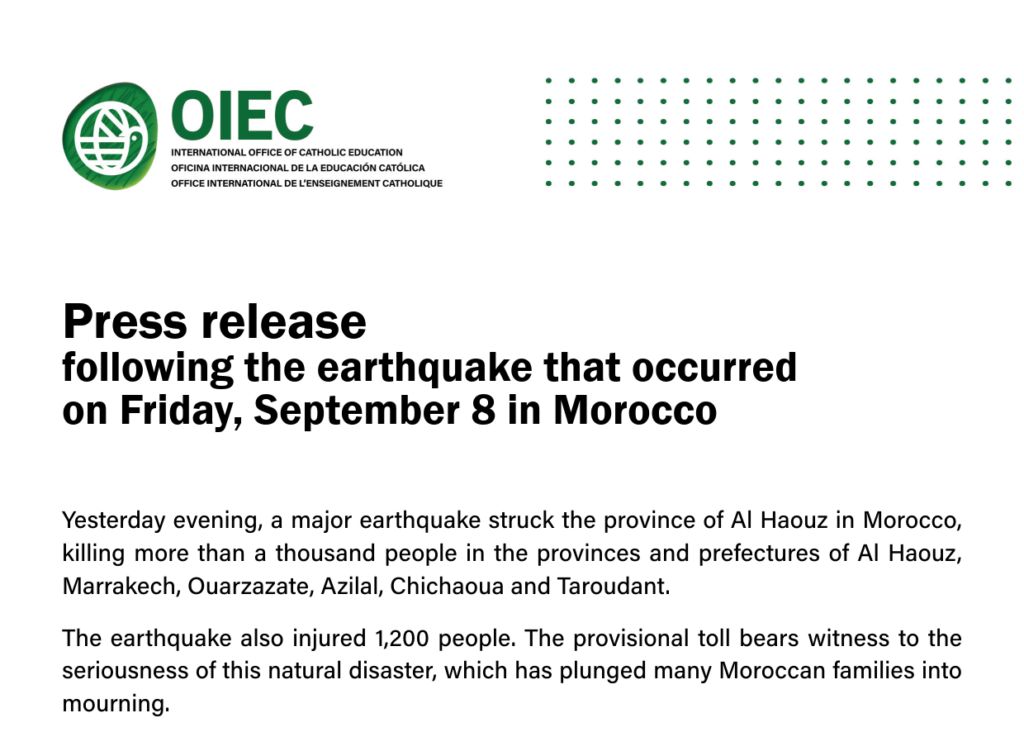 Press release following the earthquake that occurred on Friday, September 8 in Morocco
Yesterday evening, a major earthquake struck the province of Al Haouz in Morocco, killing more than a thousand people in the provinces and prefectures of Al Haouz, Marrakech, Ouarzazate, Azilal, Chichaoua and Taroudant.
The earthquake also injured 1,200 people. The provisional toll bears witness to the seriousness of this natural disaster, which has plunged many Moroccan families into mourning.
On behalf of the OIEC, I would like to extend my most sincere condolences to all the families who are today mourning the tragic deaths of their loved ones, and to express my support for all those who have been affected by this tragic event.
Our thoughts and prayers are with you, with those who have been directly affected, and with all the communities that are mobilising to bring help and comfort at this time of crisis.
We want to assure you that we are at your side in this ordeal. We are aware that the road to reconstruction will be long and difficult, but we believe in the strength and resilience of the Moroccan people. Together, you will overcome these challenges.
We are determined to work closely with ECAM to provide all the necessary support.
May the compassion, solidarity and resilience of your people guide you towards a better future.
In communion of prayer with you.

Hervé Lecomte
Secretary General of the OIEC